Checking your tyres for signs of wear and tear before a trip away should be a vital step for any traveller. Ensuring your campervan or motorhome tyres are in good condition before you set off on a journey can save the stress and strain of an unnecessary breakdown, and prevent your insurance policy from being invalidated by lack of proper vehicle care.
Preparation is key, and upon checking, you may find yourself in need of new tyres. So, where should you start? From choosing the best tyre brands to understanding the types of tyres you need; this guide will tell you everything you need to know.
What's the Difference Between Van Tyres and Campervan / Motorhome Tyres?
Whilst it is legal to use ordinary van tyres on your campervan or motorhome, you need to ensure that your tyres will serve you well, giving you maximum longevity and safety. There are a few key features to look out for when choosing your tyres.
Carrying heavy loads
Compared to standard car or van tyres, campervan and motorhome tyres need to have higher weight carrying properties due to their weight as mobile accommodation. The weight bearing difference you need to look out for on tyres can be distinguished by the C or CP mark difference. C tyres are designed for higher weight loads, making them suitable for commercial vans and smaller campers, whilst CP tyres have been specifically designed for vehicles carrying much heavier loads, ideal for larger campervans and heavy motorhomes.
So, while C marked tyres may do the trick if you're driving a lighter camper (like a small van conversion), it is vital to check that your tyres are the correct weight-bearing load for your vehicle. You can find the maximum load at maximum pressure, or load index, on the sidewall of each tyre. CP tyres are likely to be the best choice for your camper or motorhome.
Psi
As with its weight bearing qualities, campervan and motorhome tyres can also withstand the high pressure that comes with this. Psi, or pounds per square inch, is a unit of measurement to measure air pressure inside a tyre.
A standard car tyre is limited to a maximum pressure of approximately 40 psi, whilst specialist motorhome tyres can be inflated to around 80 psi. Ensuring that you have the correct tyre pressure and that the tyre is inflated correctly is extremely important, so be sure to consult your camper or motorhome handbook for the correct pressure.
Sidewalls
Another key difference between standard car / van tyres and campervan / motorhome tyres is the tougher sidewalls that camper and motorhome tyres offer. The rigid walls that these tyres have to offer not only support the weight and pressure needed from the tyres, but also provide additional stability for the vehicle, making for a more comfortable ride.
Tread
Tread is another important element to consider when selecting your tyres. The UK's required tread depth for any vehicle is 1.6mm and it's vital to have secure grip on the road, particularly in wet conditions. Compared to standard van tyres, CP marked tyres for larger campervans and motorhomes feature slightly different tread compounds which account for the additional grip that is needed if you're travelling through rougher terrains such as country lanes, for example.
The Verdict
Whilst van tyres may do the job to some degree for smaller van conversions, we advise that you purchase specialist campervan and motorhome tyres marked with 'CP' for larger vehicles. Whilst this might carry a slightly higher price tag, ensuring your vehicle makes for a comfortable journey and is roadworthy is key, and surely a priority for any camper enthusiastic.
We'd always advise that you speak with a tyre specialist to ensure that you have selected the right tyres for your needs.
Selecting the Right Camper / Motorhome Tyre for You
Now you know the difference between van tyres and campervan / motorhome tyres, along with the all-important C and CP marking difference, your next step is to select the right tyre for you. There are a wide range of tyres on the market, but we've selected a few examples to get you started below:
Michelin Agilis
The Agilis range from Michelin is a good choice for the lighter campervan or van conversion.
• All season, with summer and winter versions also available,
• 3-Peak Mountain Snowflake rating for medium-packed snow,
• A-rated wet grip,
• Mud and snow safe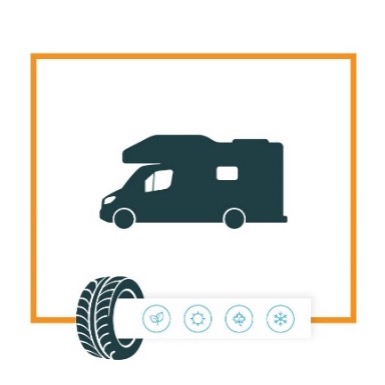 Continental Vanco Camper
The Vanco Camper tyre from Continental is ideal for the lightweight camper or van conversion in the summer months.
• Summer tyre,
• Improved wet weather braking,
• Low road noise,
• Reinforced design.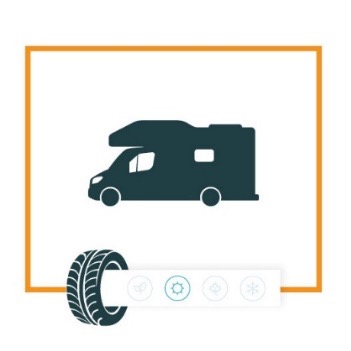 Michelin CrossClimate
The CrossClimate tyre from Michelin is ideal for all-season adventures, perfect for campervans and motorhomes.
• All-season
• 3-Peak Mountain Snowflake rating for medium-packed snow,
• Strong wet and dry grip,
• Reinforced sidewalls.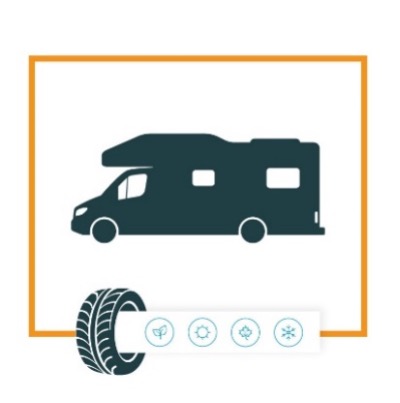 Pirelli Carrier Camper
The Pirelli Carrier Camper tyre is a great tyre for the summer camper looking for stability.
• Light truck summer tyre,
• Excellent safety in wet conditions,
• Rolling resistance.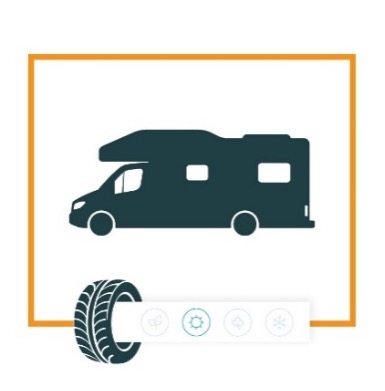 How Often Should You Change Campervan / Motorhome Tyres?

Whilst it is advisable to change your motorhome tyres every 6 years or so, you should make a point to check your tyres frequently to check for deterioration.
The frequency of your tyre change will also depend on the nature of your campervan use. If you use your campervan as a daily driver, for example, you may find that the tyres need changing more often. But remember, even if you use your campervan for infrequent holidays, tyres sat stationary in the sun can deteriorate.
As you know, tyres keep you on the road, so they shouldn't be neglected. Whether it's too small a tread depth, cracks, bulges or general signs of wear and tear, you should change your tyres as soon as you spot the signs.
Can Tyres Invalidate Insurance?
Whether it's a car or motorhome, your tyres need to meet UK road safety standards. Driving with a bald tyre, or simply driving with tyres that do not meet these safety standards is, in fact, illegal. If they are deemed unsafe, you run the risk of invalidating your vehicle's insurance.
Your insurance policy should include a section which details the importance of maintaining a roadworthy vehicle. So, not only will you be at higher risk of an accident, as bald or worn tyres make braking less effective, but your insurance will likely also be void in the case of an accident – you won't be covered, due to a lack of proper vehicle maintenance.
The best way to avoid this unnecessary strain for any vehicle is to check your tyres regularly, ensuring that they are roadworthy before driving. As soon as you spot any signs of deterioration, make sure to replace the tyre.
Looking for Campervan or Motorhome Insurance You Can Rely On?
Just Kampers Insurance has been providing specialist campervan and motorhome insurance for over 20 years and are proud to say that they are the UK's leading campervan insurance specialist. So, why not get a quote today?