The differences between campervans and motorhomes may seem difficult to notice at first, but the two vehicles aren't the same.
There is likeness, because both represent transportable accommodation, but how deep does that similarity truly go?
On closer inspection, campervans and motorhomes are different both on the surface and below it. Cosmetic differences, the kinds of equipment available, the lifestyles that go with them – these are all factors that should influence if campervans or motorhomes are the better option for you.
What is the difference between a campervan and a motorhome?
The difference between a campervan and a motorhome is that a motorhome is built on a larger chassis like a truck and has a self-contained living space.
A campervan has a self-contained quarters too, but is usually much smaller. Typically, a campervan's space isn't divided between the cab and dwelling space either.
When it comes to further distinguishing between them, let's further explore their definitions: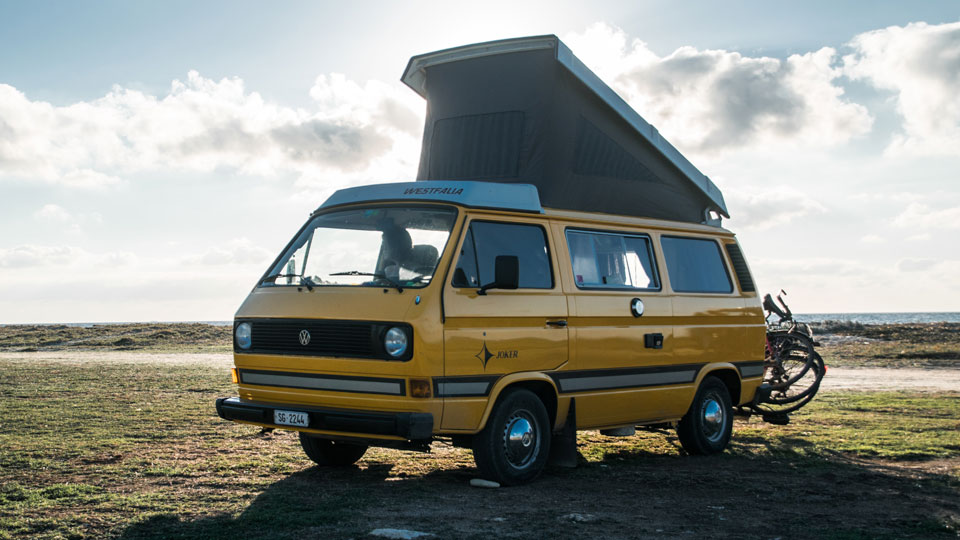 What is a Campervan?
Defined as a smallish, self-contained van, a campervan has been equipped for both transport and accommodation. Generally, a campervan has no separation between its cab and living quarters, which typically contains facilities for cooking, washing, sleeping, and dwelling or lounging.
For many, the idea of a campervan is popularly associated with a van that has been fitted and kitted, normally as an ongoing DIY job, with a range of equipment, features, and accessories that likens it to a living quarter. When shortened to camper, it can refer to an interest, a lifestyle, or a means of transport closely coupled with camping.
Unlike a motorhome, campervans are commonly built for easy, long-form travel but at a cheaper cost and with greater customisation options.
What is a Motorhome?
Demystifying motorhomes apart from campervans, these more luxe and sizable vans are geared at bringing comfort on the road. Though mistakenly interchanged with campervans, these are generally modelled around fixed features.
They both share a desire for recreational travel, but motorhomes use a truck or bus chassis to bring in extra space to the living quarters. The living quarters in motorhomes are much more compartmentalised.
Is a Campervan Cheaper Than a Motorhome?
When it comes to expense, the luxury and scale of motorhomes will usually run up charges quicker and costlier than campers. Campervans, being small runners and adaptable, means they can run at cheaper costs.
In many areas, campervans are the cheaper alternative, and include potential savings for:
Fuel economy
Parts
Ferry charges 
Is it cheaper to tax and insure a campervan or a motorhome?
Generally, when it comes to the broad costs of ownership, campervans are the cheapest option of the two. Even with tax and insurances, campervans run on more affordable premiums, especially when you partner with a specialist.
A Case for Motorhomes
Ideal for a more luxurious, comfortable escape, motorhomes can give their owners a sense of relaxed travel. These are often kitted out with an array of luxurious fixed features – depending on whether it's a coach-build or A-Class. Either way, the vehicles integrate comfort into function with compartmentalised areas, like kitchens and sleeping.
Motorhomes are larger, wider, and roomier. The obvious sacrifice is cost, as they generally run on a more expensive economy for areas likes fuel use, or parts. The main functionality of a motorhome is its self-containment, incorporating many creature comforts. It's less rugged, somewhat durable and can withstand testing journeys, much like its smaller, sleeker counterpart – the campervan.
A Case for Campervans
The classic camper, especially Volkswagen buses, are a heritage transport and have been touring for more than 50 years. They're iconic in culture, but beyond that, campervans are known for being practical modes of transport with built-in, custom living quarters.
Many campervans have different roofs, such as pop-tops, or expanding roofs. This adjustability of space sets campervans apart, as users can customise their living quarters to its use. Pop-tops, for example, can expand the space of your vehicle once it's stationary, which can be ideal for camping excursions.
Aside from adjustable space, especially in the living quarters, and different modification options, campervans are preferential to those who plan on driving a lot. Campervans tend to be smaller, easier to drive, and more manoeuvrable, which is advantageous for parking, or fitting in tighter places. Yet, the smallish sizes of campervans make this an option more suited to camping and being outdoors.
For more information about tailoring insurance policies to your campervan or motorhome, whether you're after affordable premiums, or something with that little bit more protection, consider coverage from the experts at Just Kampers Insurance.