Jump to:
For the past 50 years, the campervan has been a great escape for many as they took to the open road, whether adventuring along Cornwall's many scenic coastal routes, or driving over the open moors of Yorkshire.
But for prospective buyers on a tight budget, buying a campervan affordably nowadays is not always easy unless you know where to look.
With so many models on the market, our experts have tested, driven and insured some of the most renowned and recognisable campervans out there, including nostalgic VWs to modern van conversions. If you're wondering about the cheapest campervans in 2022, we've reviewed the most affordable models you should consider buying.
What makes a campervan affordable?
It's not always the case that campervans can't be budget-friendly, in fact, you can sometimes get certain models that need a bit of love for under £5000.
When considering what typical ly makes a campervan "affordable", buyers will need to think about models and makes, the regular running costs, insurance charges, part sourcing and much more.
The Mazda Bongo, also manufactured as the Ford Freda, was made in Japan in the late 90's/ early 2000's and is reminiscent of vehicles of that time. It looks a bit bulky overall, but the grill is something you can easily fall in love with.
While many Bongos have been extended, with pop tops or extended sleeping space, it's best to check if your campervan is stock, or whether it has been customised over time. Bongo's either come with 4 or 5 seatbelts, but five is much more common.
Why should you buy a Bongo?
The Bongo is quite a roomy campervan, giving you more space than it may appear. As they run on Japanese engines, they are reliable and aren't known to breakdown. They come with more features, such as electric elevating roofs and other driver assistance features that many other models didn't at the time.
The Bongo is also a pleasure to drive, according to owners. As they have both 2WD and 4WD options, as well as automatic gearboxes, the Bongo is a simple campervan to drive and use (and its size is perfect for UK roads).
The downsides to a Bongo
There are two downsides to a Mazda Bongo: improper conversion for imports and poor fuel economy.
As Mazda Bongo's were manufactured in Japan and then imported to the UK, unscrupulous importers may not have carried out the correct conversion measures to ensure a Bongo was road legal. Get a trusted engineer to check that all of these are correct before purchasing one.
The second issue is poor fuel economy, with the Bongo only hitting an average of under 30mpg across any speeds.
Here's some of our favourite Bongo's we've seen on social media: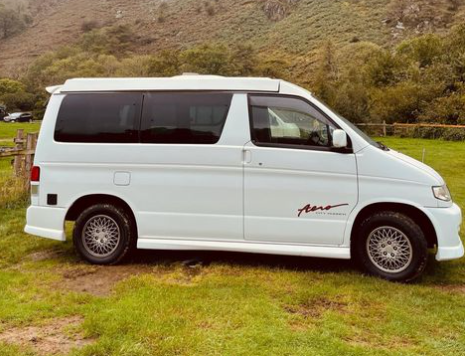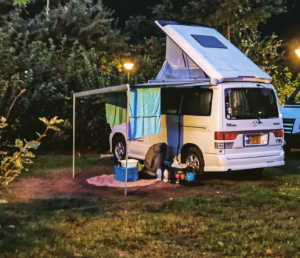 For years, Ford Transits have been manufactured as work vans, but it's perhaps only recently that many have converted old Ford Transits into modern campervan conversions. They've got the perfect base for it, being quite square with plenty of headroom for even the tallest users.
Most people take the original panel van and convert it into their dream campervan. Historically, the Ford Transit chassis has been taken and converted into campervans, such as the Buccaneer Clipper and others.
Why should you buy a Ford Transit?
As Ford's are incredibly popular, and use common parts, replacing things, especially engine and body parts, is often easier than older models. Most drivers describe it as a 'what it does on the tin' van, and one that is easy to drive and just as simple to use. However, they are incredibly popular, and you can barely go for a drive without seeing one.
Converting a Ford Transit is also very popular, and there's many online forums discussing the easy hacks learnt.
The downsides to a Ford Transit
While Ford's are a popular van, there are many downsides. Honest John, a popular motoring forum, reports the van as having flimsy interior plastics, and AA driver reviews report the van as being incredibly uncomfortable to drive in older models, as well as reacting poorly to wet, icy or snowy weather.
Here's some of our favourite Transit's we've seen on social media:
As avid Volkswagen lovers, the T4 had to be on this list. It's easily the most affordable van for upfront cost of all the VWs, and is practical, simple and does the job!
First manufactured in 1990, it was notably different from other Transporters, having a front engine, front wheel drive and all of its engines are water-cooled. Originally made not as a campervan, the T4 is now an incredibly popular vehicle to convert into one. It's simple to do and can be done as a DIY project, or by a specialist company.
Why should you buy a T4?
It's got a more robust body than older models, and looks like a typical VW, reminiscent of older Golf models or similar. For the nostalgia value, coupled with more modern and reliable engineering, the T4 is popular with owners for their versatility and are commonly self-converted. The 1.9 diesel engines are great on economy and remarkably strong for their age and mileage, the petrol engines can be thirsty, so do your due diligence on higher mileage ones.
The downsides to T4s?
The T4 is known to corrode in certain spots, largely across the base of the vehicle. Where a campervan has previously used as work vans, they're often more prone to corrosion, as they will have been used for heavy duty work. If the bonnet has been chipped with stones, then there is also a chance of rust.
It's also important to check that the dials on the dashboard are working correctly, as there is a voltage regulator that is known to fail, and the easy way to spot this is with unexpected dial workings.
There's also known issues with the electric windows and central locking. While this doesn't affect the ride quality and may not greatly impact your life, it can get annoying and cause more issues further down the line.
Here's some of our favourite T4's we've seen on social media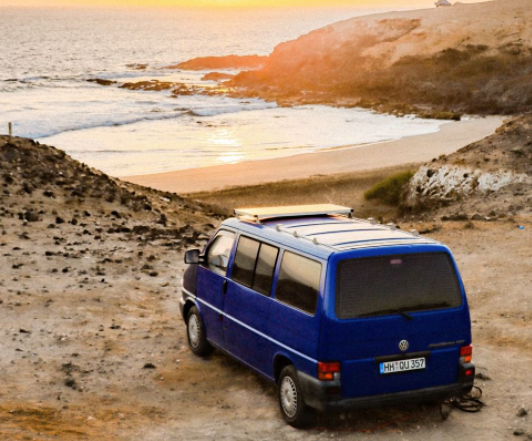 A favourite with JDM drivers who want a more practical vehicle, the Mitsubishi Delica is a fan favourite with a cult following. Head online and you'll find forums of owners, whether imported or second hand.
The Delica is known for its adaptability and customisation. From off-road mods to more conservative campers, the mods made have kept the Delica rolling off the production line, something that has been happening since 1968. And, with the revival of 90s trends, a Delica has never been more popular, with purchasing prices heading upwards of 10,000 for a well maintained one.
You can get a Delica, either new from an import company, or second hand from previous UK owners. As they've never been manufactured or sold in the UK, you will purchase an imported one, but it's whether you want to import your own, or buy from a previous UK owner.
Why should you buy a Delica?
First and foremost, they're more spacious than you may expect. Unlike van conversions, the Delica is designed as a campervan, so it's got space for living in, as well as a good driving position. It comes with up to seven seats, but with the ability for endless customisation, many have adjusted seat capacity over the years.
It's also a pleasure to drive, thanks to its 4×4 capabilities, as well as many people choosing to upgrade it to have greater suspension or ground clearance.
The Delica Downsides
One well known quality about Delica's is their fuel consumption. For shorter journeys, you're looking at no more than 20mpg. Longer journeys, it can be up to 25mpg at a push. It's petrol for pleasure, rather than performance, with the Delica's.
As most vehicles on the second-hand market are older, from the late 90s or early 2000's, you will need to replace parts, perhaps when you get it, or soon after.
Here's some of our favourite Delica's we've seen on social media
Moving on from the traditional styling of the T25/T3 (used interchangeably), was a van for the 80s. This campervan has a very unique look and is instantly recognisable anywhere one goes. While it didn't have the original silhouette that many associate with the T2 Split or Bay, it still became a firm favourite with owners, and is still popular today thanks to the extra headroom it offers.
For many, the joy of a VW was the nostalgia value. While a T25 doesn't have that original, heritage look, it's got its own cheeky 80's charm, and more importantly, it's still practical today.
Earlier versions are air cooled, while more modern versions are water cooled. While German production ended in 1992, production in South Africa carried on for another decade, allowing for a thriving import market.
Why should you buy a T25?
It's got the old school VW charm, but in an easier to maintain and roomier way. The high top and Caravelle models are ideal for those looking for a spacious campervan and give you more options for customisation. There's also a well-supplied aftermarket parts supply system, with some original parts still available if you know where to look.
The downsides of a T25
There's known gear stick issues, as the synchromesh can be worn easily in both the four and five speed units. As part of this, the long gear lever can be bent, but it's easily fixed.
Another important point to check is that any conversion carried out has been done correctly. As conversions may have been carried out over the years, hastily fitted out VWs may now be falling apart, or not holding their original structural integrity.
Here's some of our favourite T25's we've seen on social media.
The Vauxhall Vivaro is probably one of the smallest vans that you can convert into a campervan, as it's more commonly used as work van. However, for those who don't want to pay out for a Ford Nugget, the Vauxhall Vivaro may be a good option.
It's easy to get hold of the Vauxhall Vivaro, thanks to its British heritage, and it's a decent size for what you pay. For the same size, you could get an old school VW, but if you're not fussy about heritage and want a modern drive with notably good driver convenience, then the Vivaro is probably a good bet for you.
Why should you buy a Vauxhall Vivaro?
Despite the size, you can get a full width bed in! This is a huge bonus in itself, and it's a good-sized van without taking up excess space when parking, so you won't have to pay for two parking bays in busier areas.
As Vauxhall is a very common brand in the UK, you'll be able to get parts and repairs done pretty much everywhere, especially engine side. Another great thing about the Vivaro, is that it looks like a work van, so you can create a stealth conversion that won't draw attention in car parks.
The downsides to a Vivaro?
The ride can be stiff with no furniture in, according to existing users. However, if you've got a loaded-up campervan, you should find that more comfortable. The other downside is that it isn't that tall for those who want to spend time in their van long term, and you won't be able to stand to full height.
Here's some of our favourite Vivaro's we've seen on social media.
The Fiat Ducato is the same size as a Mercedes Sprinter, but without the same price tag. It's a staple in the work world for good reason, as it's a large van, that does the job without screaming about it, unlike some of its counterparts.
The Ducato commonly comes as a panel van or a chassis cab. The reason why it's becoming more popular in the campervan world is because it can be easily converted with little hassle. The inside is the right height, and because it's a common shape, parts and fit-outs can be done as a DIY job, or by a converter.
Why should you by a Ducato?
The Ducato does the job it needs to, and does it well, and this impressive testimony comes from owners who already have one.
It offers good fuel economy, especially on newer models, when compared to other vans. And because of its size and build, there's a good payload for those who want to live in their van full time.
The downsides to a Ducato?
There's limited storage around the driver's area, so you are pretty much confined to what's already existing with no room for drastic change, and depending on configuration, swivel seats. There's also limited flexibility to amend the interior space, and not much imagination can be applied to layouts.
If you're wanting a van that's got looks and performance, a Ducato may not be for you, as it's definitely function over fashion.
Here's some of our favourite Ducato's we've seen on social media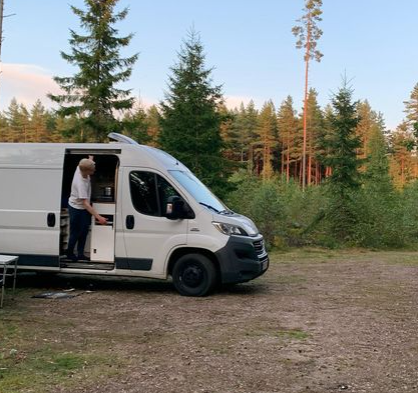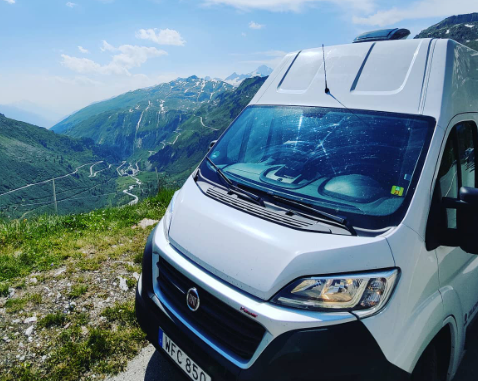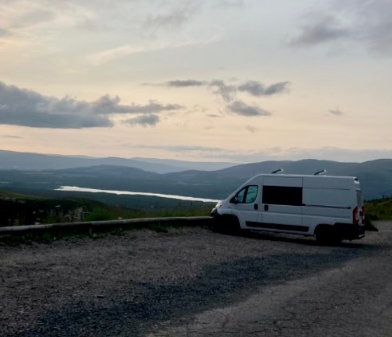 What else do I need to know before buying affordable campervans?
How affordable are VW campervans?
VW campervans are surprisingly affordable. If you're not fussy about generation, you can get a VW campervan from upwards of about £5,000, although older models may need work.
A T25 or T4 is going to be your best bet for an affordable VW campervan, with both starting from £5,000.
How cheap are older model's vs newer campervans?
Older models are considerably cheaper to buy than newer models. Models like the VW T25 or the Mitsubishi Delica work out much cheaper, but you do also run the risk of more expensive repairs and harder to source parts.
Models older than 40 years won't need a formal MOT, but it's worth regularly servicing them anyway.
Is it cheaper to buy a converted campervan?
No, it's often not if it's a self-build, as the amount of materials and the cost of those materials will quickly add it up to someone who isn't buying wholesale or with trade discounts. A good conversion can cost upwards of £40,000 for historic models, and much more for new vans.
Which is the most affordable campervan?
Well, it depends. Affordability as we've looked at it only covers the initial purchase cost. While a T25 or T4 may be cheaper upfront, the cost of mechanical faults and repairs could quickly work up more of a cost than a brand-new Ford Transit or Fiat Ducato conversion, and without the manufacturer's warranty.
Lifelong affordability, when considering things like specialist campervan insurance, petrol/diesel, MOTs (or the lack of for models over 40 years old), servicing, campervan parts availability, maintenance costs and so much more.
Just Kampers Insurance can help with the affordability of your campervan insurance. With our experience providing insurance for over 20 years, we can insure your campervan, whether self-build, classic, modern, or something else. Get an online quote today.