If we are to believe the recent Top Gear screening, in which the trio set out to road test and find the ideal first car, the VW beetle would be in contention.
According to them, via a Public Service Enquiry, the average cost for a new driver to get on the road is around £7k. Comprising of an average car cost of £5,000 and £1,900 insurance.
For anyone with a love of their classic VW Beetles the image of Freddie Flintoff hooning around and subsequent hilarity that ensued was very entertaining to watch.
Having said that the question the episode raised is a fair one. How realistic is it that youngsters these days would want, be able to afford to buy or insure, or be suited to, a Beetle as their first car?
Being too long in the tooth to appreciate what is considered cool these days, my popular culture reference being Billy's Beetle from Gremlins (circa 1984) and with the realisation that 1984 was nearly forty years ago – God I'm old! – I turn to my soon to be 17-year-old son.
Gremlins, 1984, Warner Bros, Amblin Entertainment
Would he want a classic Beetle rather than an entry level, cheap, more modern car? Now, as a pre-cursor it should be noted that he's grown up with VWs around him since birth. He's never known life without at least one in the family – so he may be a little biased.
When asked the answer was "Hell Yeah!". They are officially STILL COOL!
(Our idea had always been to buy a bug that needed some work and that he would spend some time with his dad learning the ropes – whilst that hasn't quite materialised yet due to nothing other than being so busy the intention remains!)
But are they affordable and reliable enough to be a contender?
If you are seriously considering the realities of buying a VW Beetle as a first car there are several things to consider.
Cost – Outlay, Insurance, Maintenance and Road Tax
Both this and what to choose are inexorably linked. If you are buying a Beetle as a first car it's likely that the budget will be your limiting factor. Regardless of your desire for an early split rear window, the realities of budget, and practicalities for daily use, are more likely to be suited to an arguably less desirable but more driveable 70's beetle. Less desirable here directly translates to more affordable but you are unlikely to see much change from £4k-£6K upwards for a reasonable one.
It will help to understand the differences between models and the history when making your decision.
Dropping this kind of money on a first car may seem extreme (and completely unrealistic for many), but, if it is an option, remember than unlike others these cars hold their money and, when looked after, will appreciate in value.
Another bonus associated with the VW Beetle is the comparative low insurance cost. Insuring through a specialist insurance supplier such as Just Kampers Insurance will get you the best deal; an extra benefit here is the discount on parts you receive as an insurance customer.
Example Just Kampers Insurance Quote 
Quotes were based on a 17-year-old male, living in CB11, just passed their test, a full-time student, the parent is listed as a named driver on the policy. The main driver listed as a member of a relevant VW Club and their vehicle is insured as a 1970 VW 1300 Beetle valued at £5k.
Comprehensive =            £1092.56 including free legal cover with a £450 Excess
TPFT =                                   £704.52 including free legal cover with a £200 Excess
Both these quotes are without a black box fitted. However, quotes could be lowered further with one declared. 
Road Tax
Being a historic vehicle, you will also benefit from no road tax – and whilst further cost saving the lack of MOT requirement (dependent on age) might be appealing, we'd advocate that you continue to have them done to maintain safety standards.
Pitfalls – When Buying and Maintenance Considerations
Buying:
When considering a purchase do your research.
If possible, take a knowledgeable friend with you – the Beetle (as with most VWs) has an uncanny knack of charming you into making decisions lead by heart rather than head. It helps to have a voice of reason with you!
Familiarise yourself with common issues and have an understanding of what it is likely to cost to have them addressed.
JK has a downloadable PDF of a Volkswagen Beetle buyers guide that explains in greater detail what those common issues may be, including corrosion hotspots. Click through to download me!
Maintenance:
A classic VW Beetle in any guise is, by its very nature, a simple beast. It was designed to be exactly that. And it's a design that has long endured when all others opted for every conceivable bell and whistle.
VW itself was famously known for poking fun at its own cars with its genius ad campaigns actually labelling the Beetle a 'Lemon' (as with everything – it's all in the small print!).
Do not expect that you will have the comforts or driving experience of a modern car – but what it lacks in other areas we'd argue it more than makes up for elsewhere!
The knowledge is far easier to access these days with excessive amounts of YouTube videos covering everything you could ever want to know. There are books too of course – John Muir's How To Keep Your Volkswagen Alive – A Manual of Step by Step Procedures for The Complete Idiot being the obvious choice (the illustrations and humour should help to sell it as a concept!). If you or your young person are happy to spend time with overalls donned and grease on your hands the VW Beetle offers a perfect learning experience – and perhaps a few life skill lessons too – particularly in patience and sometimes humility!
Running costs are reasonable – especially set against more modern counterparts. With parts and panels easy to source and fit, most issues are easily attended to.
Due to the simplistic nature of the car, jobs that feel too difficult for the DIY enthusiast, require less time and are therefore less costly in the hands of a specialist VW garage.
With more modern cars routinely requiring repairs or replacement parts to be undertaken with specialist equipment at a garage – often at a considerable cost – the classic beetle presents as a viable option.
As Freddie found when his Beetle broke down and then subsequently started again, after a few moments, with nothing more than the turn of a key…
"Anything over 40 is the same – it just needed a little rest!"
 With anything of any age – they require some TLC and routine maintenance.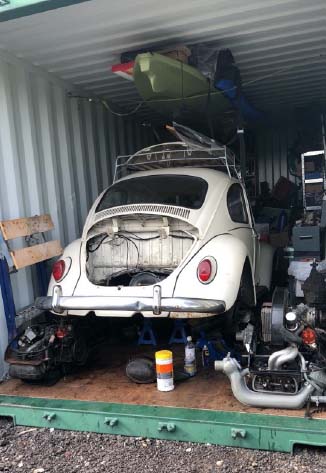 Earl requiring some love Credit: Meg Cave
 Encourage your kids to view them as pets. Without the time and effort – they grow 'poorly ick' and subsequently let you down. It's a metaphor for life – you get out what you put in! (Did we mention the life lessons!)
Principally, the VW Beetle is comprised of a floor pan onto which the body is bolted. With the addition of an air-cooled engine in the back and rear wheel drive. In whichever guise you decide to purchase you will be buying a vehicle that lends itself to getting your hands dirty and maintaining it yourself.
Fors and Against the VW Beetle as a First Car
We'll start with the Against…
They aren't for everyone – honestly if they are used to the creature comforts of a modern car, and putting in no more effort than filling it with fuel and occasionally sticking some air in the tires on a garage forecourt, it properly isn't for your teen,
They, like any classic car, are not burgeoning with safety features of modern cars – they come from a time when everything was slower and there were fewer cars on the road. The reality is that your teen will not be as safe as they would be in a more modern car,
They can be cold and impractical to drive throughout the winter months,
They will require an element of maintenance.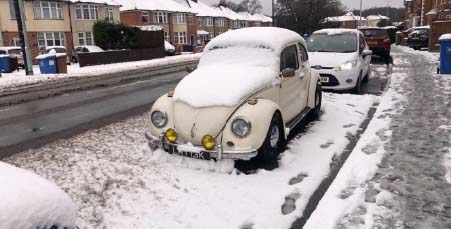 VW Beetle Earl in the Snow Credit: Meg Cave
Fors
They're COOL!
With care they will appreciate with age,
They can't go fast – in many cases of accidents with young drivers' speed is a factor,
Your teen is likely to love it – and therefore want to look after and show it some respect,
They are a low-cost insurance option,
No tax cost or MOT (although continuing to MOT is advised),
Your teen will be too busy enjoying themselves to notice the cold,
They offer excellent opportunities to learn all sorts of life lessons and skills!
You're not just buying a car, it's a piece of history – and you become part of something bigger.
At 17, JK team member and part our sales staff, Meg, bought, worked on, and put back on the road her first car – a 1971 1300 VW Beetle 'Earl'. We asked her if it was a good first car and whether she is just as in love with it as she always was.
Meg and Earl Credit: Meg Cave
Why did you choose a Beetle for your first car?
I chose to have a Beetle as my first car because my dad had when he was my age. Beetles have been a part of my life since I was born, and I wanted to carry on having them in my life. Having a beetle is my dream car.
How have you managed the maintenance and work needed – has it been a joy or a pain in the a**?!
All my parts for Earl come from JK, some stuff I can fix on my own, but my dad and friends help me on the parts I cannot do. Some of the tasks have been easy some have been a pain, but that is the joy of having a 50-year-old vehicle.
How long did you drive Earl as a daily – and what made you stop? Will you again?
I drove him daily for a year and 9 months, I stopped because the engine started to fail, and a crack developed in the case. Unfortunately, I don't think I will daily him again. I really need to invest the money in other things now.
Would you recommend a classic Beetle as a first car to others?
I would and I wouldn't. If you don't know how to maintain a classic, know people who can teach you or aren't willing to learn, I wouldn't, because it is very different from owning a modern car. But, at the same time, I would say yes as it is the best decision I ever made.
What has been your best experience with Earl, and do you think you'd have had the same in a more modern vehicle?
The best experience was driving him to Belgium after owning him for 4 months, this was an experience of a lifetime, driving through the town of Bruges.

I would not of had the same experience If I had gone in a modern car, as this trip was to go to Ninove to spend the weekend with a lot of other classic car owners.

Earl didn't miss a beat and we had a great time.
I've got so many special memories that Earl is a part of, working on him and learning from my dad, having adventures and road trips to shows etc with my friends. I don't think I'd have had any of these – or learned as much as I did if Earl was a modern car… even if it isn't Earl – there are definitely more classic VWs in my future!
So, in summary. Is it cheaper? It can be… Is it practical? Depends on the vehicle and your commitment… Is it safer? Probably not. Are your kids going to be more careful in it and drive slower? They'll have no choice! Will it make them smile? Definitely!
As we've established – a classic isn't for everyone, but it is definitely a viable option.
How many kids can actually afford the cool car they turn up in for prom? The beetle makes this a reality.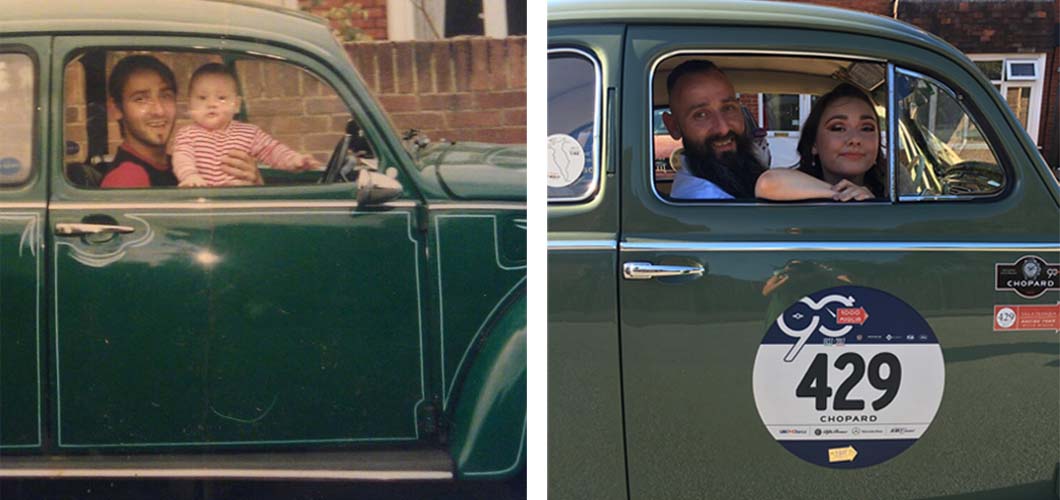 JK ole'timer Chet and his daughter as a baby and ready to go to prom – for many it's in the blood!
Grab the shades, hit the road, and enjoy life in the slow lane…
For more information about tailoring insurance policies to your classic VW, campervan or motorhome, whether you're after affordable premiums, or something with that little bit more protection, consider coverage from the experts at Just Kampers Insurance.